May 9, 2023
Business Leaders Learn About Regional Career Tech Programs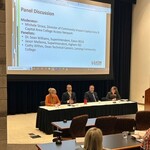 Charlotte, MI - Lansing area business leaders, who are a part of the Lansing Regional Chamber of Commerce's Leadership Lansing cohort, got an inside look at Career and Technical Education (CTE) classrooms today. Participants also heard directly from education leaders about their programs which prepare high school and college students for in-demand careers throughout the Capital Region.
Eaton Regional Education Services Agency (RESA), Ingham Intermediate School District (ISD), and Lansing Community College (LCC) hosted the Lansing Regional Chamber of Commerce Leadership Lansing cohort for tours and a panel discussion aimed at connecting education and industry.
Participants toured the Insurance and Risk Management program housed at Farm Bureau Insurance of Michigan as well as toured LCC West Campus for a look at the hands-on labs and classrooms for students in the Welding, Automotive Technology, Construction, Mechanical Engineering and Mechatronics/Robotics programs.
"Events like this are a win-win for education and industry. We can showcase our programs and bring attention to the career readiness of our students, while our industry partners can help advise us and make sure we are tailoring our programs and offerings to ensure we're preparing students as best we can for jobs in the future," said Dr. Sean Williams, Eaton RESA Superintendent.
Schools and industry are increasingly working together to better understand how each provides unique opportunities and career paths. Programs offered through Eaton RESA and Ingham ISD give high school juniors and seniors the chance to learn transferable skills while earning high school credits, as well as an opportunity to earn college credit and professional certifications.
"Students who choose CTE leave our programs ready to enter an apprenticeship program, continue to community college, go to a four-year university, or go right to work with applicable skills and certifications," said Williams. "Our programs align with high-paying, in-demand jobs so our students are ready to become successful as the next generation of Michigan's workforce."
Beginning in elementary school, students are exposed to early career awareness and older students can be linked with program offerings and connected with individualized career experiences, programs, industry credentials and direct college credit.
###