Strategic Plan
Strategic Planning Process 2021
Eaton Regional Education Service Agency (RESA) administration and Board of Education have begun the process to renew a 5-year Strategic Plan for the District. The purpose of the process will be to examine the District's current strategic plan including the mission, vision, beliefs, goals and strategies to continue to provide and enhance educational opportunities through programs and services provided by Eaton RESA. Stakeholder feedback is an important part of the planning process. Community members, parents, teachers and District staff members will have the opportunity to give input on the strengths of the District, opportunities for improvement, barriers for implementation and their vision for the District. Stakeholder input, along with essential District data, will drive District decision-making on priority goals to be implemented over the next five years.
Strategic Plan 2016-2021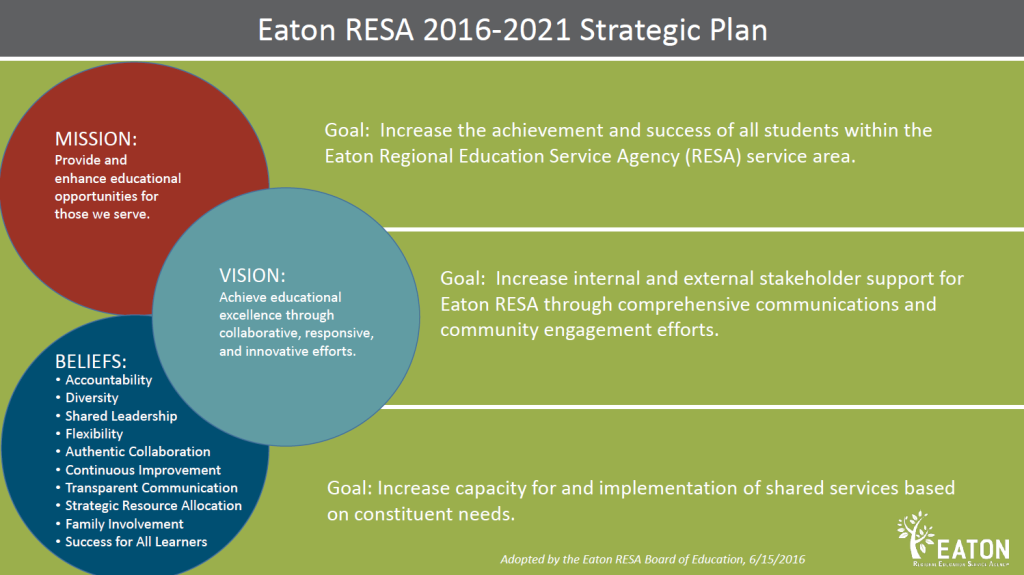 Current Goals and Focus Areas
Student Outcomes



Increase school readiness in the area of early literacy for children transitioning into kindergarten across Eaton RESA.

Increase levels of proficiency for all students on third grade ELA and Math benchmarks across Eaton RESA.

Increase the extent to which students in grades 7-12 are career and college ready across Eaton RESA
Communication and Engagement



Increase internal and external stakeholder support for Eaton RESA through comprehensive communications and community engagement efforts.
Shared Services



Increase capacity for and implementation of shared services.

Eaton RESA 2016-2021 Strategic Plan