Early Childhood
Eaton RESA offers many programs for our littlest students.
Early On® is a program that connects families with early intervention supports and services for infants and toddlers, from birth to age three. Early On is family focused, emphasizing family strengths and abilities, and addresses each child's developmental delays within home-based and/or play group settings. Great Start Readiness Program (GSRP) provides high quality preschool education to income and need eligible four-year-old children and is focused on school readiness. The Eaton Great Start Collaborative is a network of early childhood education and care partners who are working together to support parents and caregivers in providing quality, developmental learning opportunities and programs for young children, birth to age eight, across the Eaton RESA service area. The collaborative promotes the importance of early childhood education through various activities and strives to have all children developmentally ready to succeed in school.
Build Up Michigan is for children ages 3-5. If you are concerned about your child or a child you know who may not be meeting important developmental milestones, complete the Referral Form below to begin the evaluation process. Services are FREE and coordinated through the school district where the family resides-even if the child is not yet attending school.
If you have a concern about your baby's health or development, Early On services is an effective way to prevent or reduce problems for children at a later age. Specializing in the evaluation and treatment of children that are not developing at the same rate as other children, Early On assists with physical, mental, social, or emotional development. Early On is offered by the Michigan Department of Education. Early On is mandated by Part C of the federal Individuals with Disabilities Education Act (IDEA).
For more information regarding Early On, call 1.800.327.5966 (voice or TDD) or Eaton Early On at 517.541.8937.
Begin the

online referral process.
Little Bits Newsletter

Holiday 2016 Edition

Summer 2016 Edition

April 2016 Edition

February 2016 Edition
Child Find
Child Find Michigan is a statewide system of service to promote the awareness of special education supports and/or services provided by the public school system.
Child Find is devoted to helping individuals, parents, and people who work with families (known as primary referral sources), to connect with the special educational services that may be needed. In Michigan, eligible children, youth, and young adults may receive special educational services from birth through 25 years of age. Child Find screenings are for children between the ages of 3-5 years old.

Download the Child Find Brochure here.
Resources

Early On Calendar

Early On FAQ

Parent Community Resources
Agencies, parents, caregivers, and the community commit to providing a supportive environment characterized by respect and by the provision of accessible and coordinated services.
Resources

Great Start to Quality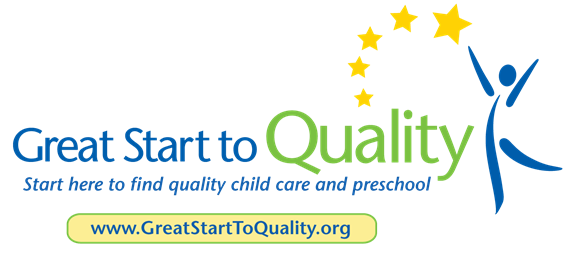 Free Preschool through Great Start Readiness Program
What is the Great Start Readiness Program (GSRP)?
The Great Start Readiness Program (GSRP) is Michigan's state-funded preschool program for four-year-old children. The program is administered by the Michigan Department of Education (MDE).
Why should you consider a high-quality preschool for your child?
Research on preschool programs and specific research on GSRP indicates that children provided with a high-quality preschool experience show significant positive developmental differences when compared to children from the same backgrounds who did not attend a high-quality preschool program. High-quality GSRP programs prepare children to be successful in Kindergarten and throughout life.
What is our goal?
The goal of the program is to encourage the development of children and prepare them for successful entry into Kindergarten using developmentally appropriate practices in a play-based curriculum.
What is a play-based curriculum?
The Eaton Regional Education Service Agency uses Creative Curriculum, a play-based curriculum that focuses on eight domains: Language Development, Literacy, Mathematics, Science, Creative Arts, Social & Emotional Development, and Physical Health & Development. Creative Curriculum for preschool, is a scientifically-based curriculum, along with an internet-based child assessment system to measure progress and make program improvements. Creative Curriculum is play-based which means that children have the opportunity to choose activities which they find interesting and fun. At the same time, teachers have intentionally planned these activities knowing what children will learn as they interact with the materials in the classroom.
Who do we serve?
The Eaton Regional Education Service Agency (ERESA) services Great Start Readiness Programs (GSRP) throughout Eaton County. ERESA serves as the fiscal and administrative agent. School day GSRP classrooms are located in each district throughout the county including: Charlotte, Eaton Rapids, Grand Ledge, Maple Valley, and Potterville.
Eligibility
All children need to be age eligible (4 years old on or before December 1) to qualify.
Programs maintain a 1:8 ratio as required by the State of Michigan and are run by highly qualified and certified teachers.
Classes meet Monday through Thursday at all locations. Times vary from one district to another.
It's easy to enroll. Please fill out the free preschool application or call 517.541.8724 for more information.
More information on

free Michigan Preschool.

GSRP Calendar