November 17, 2022
New Leader Joins Eaton Career & Technical Education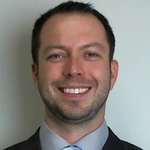 Vlad Lebedintsev, Ed.S., MBA, a seasoned educator and career preparation expert, joined Eaton Regional Education Service Agency (RESA) as the Assistant Superintendent for Career & Technical Education (CTE) this week. He has filled the position previously held by Kathleen Szuminski, who will retire this year after 40 years of service.
With a track record of developing and implementing innovative programs, expanding funding opportunities, and partnering with business and industry, Lebedintsev has more than 12 years of experience leading CTE programs. He joins Eaton RESA from Oakland Schools where he provided expert CTE consulting on program improvement, curriculum, instruction, assessment, and compliance at four technical education campuses and across 28 school districts.
"The Eaton program has a long history of providing in-demand training, real world experience and career guidance, thanks to Kathleen's leadership." said Dr. Sean Williams, RESA superintendent. "As we continue to add programs and expand our career pipeline, we are confident Vlad has the necessary experience and vision to guide our programs, our county and our students forward by combining education and industry."
In previous positions, Lebedintsev excelled in developing business partnerships, increasing enrollment and funding for programs, and supporting programs and outreach to all grades as part of the K-12 Career Readiness System. In addition to his work with Oakland Schools, Vlad served as career technical education grants director with Rochester Community Schools and taught business and finance in Oxford Community Schools.
Lebedintsev plans to focus on current programs as well as new opportunities to expand and meet employers' evolving needs. "CTE programs offer highly specialized career training and hands-on opportunities for students and with the growth in manufacturing, technology and other industries in the greater Lansing area, the time is now to innovate and educate our youth and connect them with local employers," said Lebedintsev.
Eaton RESA currently serves more than 350 students across the area through CTE programs and training for high school juniors and seniors in 16 different programs. Students gain individualized career experiences and have opportunities to earn industry credentials and direct college credit. In addition, younger students are offered an introduction to career exploration beginning in elementary and middle school.
Lebedintsev currently serves as an executive board member with Michigan Association of Career and Technical Education and holds several industry certifications.
###