Coronavirus (COVID-19) Information
All the information provided on our website was taken from the Michigan Department of Health and Human Services (MDHHS) or the Centers for Disease Control and Prevention (CDC). This information is focused on preventing the spread of the disease, symptoms and what to do if you think you may be sick. More information is available on the Eaton County Health Department, MDHHS or the CDC websites.
The Governor encourages ALL residents to practice preventative measures to slow the spread of COVID-19:
clean and disinfect surfaces regularly

wear a mask to cover your nose and mouth when in public
Eaton RESA Continuity of Learning Plan

Eaton RESA Continuity of Learning Plan - Approved by the Board of Education

Eaton RESA Continuity of Learning Plan Overview - Final
Infectious Disease Preparedness Plan for Influenza Pandemic and COVID-19

Infectious Disease Preparedness Plan for Influenza Pandemic and COVID-19
Important News

Governor Whitmer Releases MI Safe Schools Roadmap, Directs School Districts to Develop Return to School Plans - June 30, 2020

Executive Order 2020-142 - Provision of preK–12 education for the 2020–2021 school year - June 30, 2020

Executive Order 2020-63 - Provision of K–12 education during the remainder of the 2019–2020 school year

Governor Whitmer Signs Executive Order Suspending Face-to-Face Learning at K-12 Schools for Remainder of School Year - April 2, 2020

Important Statement about Online Learning from Eaton RESA - March 25, 2020

ISDs and RESAs Assist Essential Workforce in Finding Child Care - March 20, 2020

Executive Office News and Announcements from Governor Whitmer
Resources

Weekly Data Report from the Barry-Eaton District Health Department


Michigan State University's Website and Campus Strategies for Coronavirus


Child Care Relief Fund Application for Providers


Tri-County Wellness Resources


Resources for Families During the Coronavirus Pandemic


What Michigan Needs to know to close/Impact the digital divide

Infographic: When Do I Seek Care?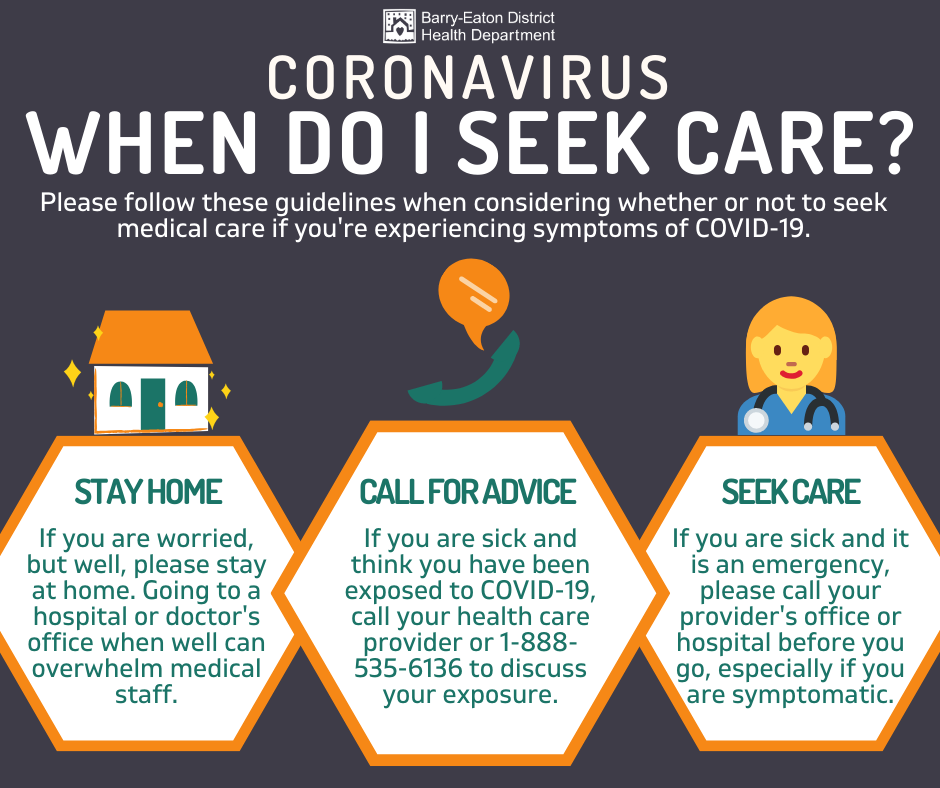 The Centers for Disease Control and Prevention (CDC)

US Map of states with confirmed cases of the coronavirus disease (COVID-19)
Frequently Asked Questions (FAQ)
The

CDC has compiled a large number of FAQs based on:
Coronavirus Disease 2019 Basics
How COVID-19 Spreads
How to Protect Yourself
COVID-19 and Children
School Dismissals and Children
Preparing Your Home and Family for COVID-19
In Case of an Outbreak in Your Community
Symptoms & Testing
Higher Risk
Healthcare Professionals and Health Departments
COVID-19 and Funerals
What CDC is Doing
COVID-19 and Animals
Michigan Department of Health and Human Services
The Michigan Department of Health and Human Services has complied a

Frequently Asked COVID-19 Questions list.
What can be done to minimize the spread of the

Coronavirus

Disease (

COVID-19

)?
The CDC has provided some guidance on prevention that should be used for both the flu and coronavirus:
Washing/cleaning/sanitizing with soap and WARM water is fine, as long as you're washing hands for 20 seconds. No specific "special products" are needed.

Sanitizing gel is also fine, but note that it must be rubbed into the skin until it's dry.

Masks do not provide any benefit to healthy individuals, and if someone is exhibiting symptoms of

coronavirus

, they need to be isolated at home.

Coughing or sneezing into a tissue, elbow or sleeve is recommended. Tissues should be immediately thrown away in trash receptacles.
These steps will support students and staff against common winter germs, including colds, seasonal flu and strep, in addition to COVID-19. They are smart practices for all individuals and organizations and we encourage families to follow the same practices at home.
COVID-19 Background Information
What is the Coronavirus?
A novel coronavirus is a new coronavirus that has not been previously identified. The virus causing coronavirus disease 2019 (COVID-19), is not the same as the coronaviruses that commonly circulate among humans and cause mild illness, like the common cold.
A diagnosis with coronavirus 229E, NL63, OC43, or HKU1 is not the same as a COVID-19 diagnosis. Patients with COVID-19 will be evaluated and cared for differently than patients with common coronavirus diagnosis.
Why is the disease being called the coronavirus disease 2019 (COVID-19)?
On February 11, 2020 the World Health Organization announced an official name for the disease that is causing the 2019 novel coronavirus outbreak, first identified in Wuhan China. The new name of this disease is coronavirus disease 2019, abbreviated as COVID-19. In COVID-19, 'CO' stands for 'corona,' 'VI' for 'virus,' and 'D' for disease. Formerly, this disease was referred to as "2019 novel coronavirus" or "2019-nCoV."
There are many types of human coronaviruses including some that commonly cause mild upper-respiratory tract illnesses. COVID-19 is a new disease, caused be a novel (or new) coronavirus that has not previously been seen in humans. The name of this disease was selected following the World Health Organization (WHO) best practice external icon for naming of new human infectious diseases.
How does Coronavirus (COVID-19) spread?
Health experts are still learning the details about how this new coronavirus spreads. Other coronaviruses spread from an infected person to others through the air by coughing and sneezing. close personal contact, such as touching or shaking hands. touching an object or surface with the virus on it, then touching your mouth, nose, or eyes. in rare cases, contact with feces.
What are the symptoms of the Coronavirus (COVID-19)?
According to the CDC, patients with COVID-19 have reportedly had mild to severe respiratory illness. Symptoms can include:
Fever
Cough
Shortness of Breath
Symptoms may appear 2-14 days after exposure. If you have been in China within the past 2 weeks and develop symptoms, call your doctor.
What are the symptoms of the Influenza as they differ a little from COVID-19?
According to the CDC, common Influenza (flu) can cause mild to severe illness, and at times can lead to death. Flu is different from a cold. Flu usually comes on suddenly. People who have flu often feel some or all of these symptoms:
Fever* or feeling feverish/chills
Cough
Sore throat
Runny or stuffy nose
Muscle or body aches
Headaches
Fatigue (tiredness)
Some people may have vomiting and diarrhea, though this is more common in children than adults.
*It's important to note that not everyone with the flu will have a fever.