Coronavirus (COVID-19) Information
Governor Gretchen Whitmer and State Superintendent Michael Rice have announced the closure of all Michigan K-12 school buildings, public, private and boarding, starting Monday, March 16 through Sunday, April 5. Limited staff may be in the buildings, but the buildings will not be accessible to the general public.
Given the recent conversations surrounding Coronavirus (COVID-19), we felt this information should be shared with our school family and the community.
All the information provided on our website was taken from the Michigan Department of Health and Human Services (MDHHS) or the Centers for Disease Control and Prevention (CDC). This information is focused on preventing the spread of the disease, symptoms and what to do if you think you may be sick. More information is available on the Eaton County Health Department, MDHHS or the CDC websites.
The Governor encourages ALL residents to practice preventative measures to slow the spread of COVID-19:
Wash your hands often, for 20 seconds.
Practice touching your face, less often.
Replace handshakes with elbow bumps.
Cover your mouth when you cough or sneeze.
Clean surfaces regularly.
Stay home if you are sick.
Important News

Important Statement about Online Learning from Eaton RESA - March 25, 2020

ISDs and RESAs Assist Essential Workforce in Finding Child Care - March 20, 2020

Executive Office News and Announcements from Governor Whitmer
District Food Service
Charlotte Public Schools School Closure Meals
March 16 – April 3, Monday – Friday
Grab-n-Go Lunch and Breakfast, Free Meals for all Children and Teens


More information and details
Eaton Rapids Bagged Breakfast & Lunch
ERPS is offering bagged breakfast and lunch from 11:00am to 1:00pm Tuesdays and Thursdays at Eaton Rapids High School. Additionally, ERPS will be delivering food to Waverly High School on Mondays from 11:00am to 1:00pm and 5:00-6:00pm.
Grand Ledge Sack Breakfast & Lunch
GLPS is providing sack breakfasts & lunches for kids 18 & under. To estimate the number of meals, please call (517) 925-5733 or email gyurichd@glcomets.net.
Drive-through pick-up of meals at Beagle Elementary on Tuesdays & Fridays, 10:30am-12:00pm.


More information and details
Maple Valley Schools Breakfast and Lunch Program
Maple Valley will provide breakfast and lunch for ALL district residents, 18 and under or 26 and under with a disability, during this mandatory closure. These meals will be supplied for all 7 days of the week. We are offering a pickup or delivery.


Visit the Google form here (please note, the form has closed but please follow directions to contact MVS)
Potterville Public Schools Free Meals for Kids
Beginning Tuesday, March 17, Potterville Public Schools will be providing meals for anyone ages 18 and under while schools are closed during the "state of emergency". We are following the states recent guidance on food serving protocols.


More information and details
Resources
State Website: www.michigan.gov/coronavirus
Barry-Eaton District Health Department Fact Sheet
Michigan State University's Website and Campus Strategies for Coronavirus

Infographic: When Do I Seek Care?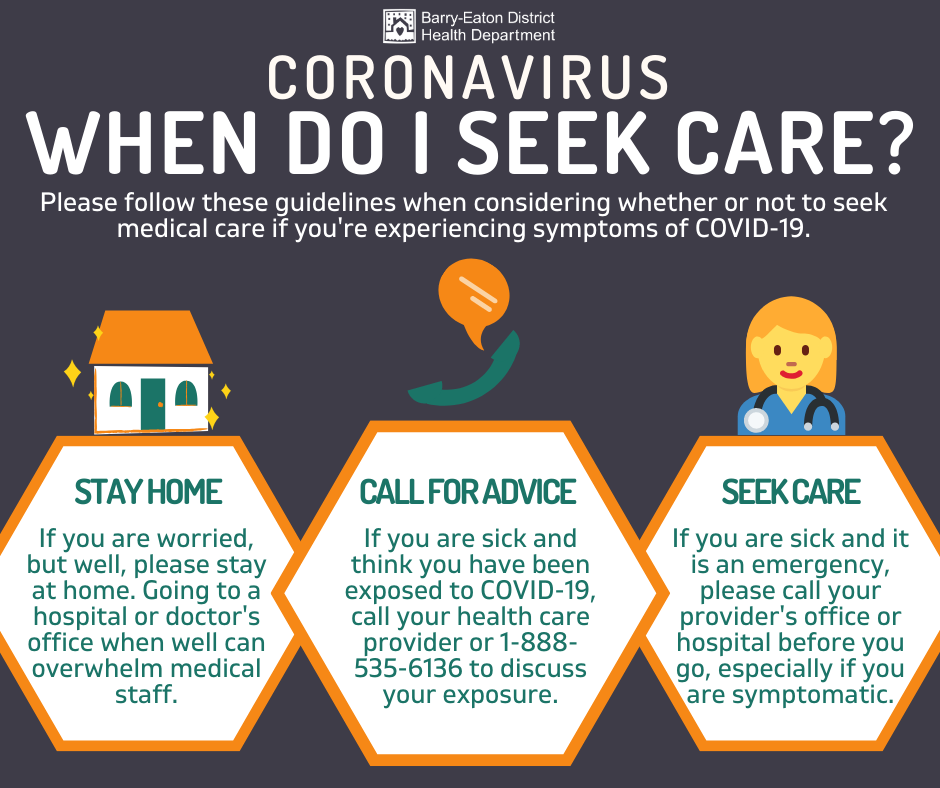 Best Practices
What can be done to minimize the spread of the Coronavirus Disease (COVID-19)?
The CDC has provided some guidance on prevention that should be used for both the flu and coronavirus:
Washing/cleaning/sanitizing with soap and WARM water is fine, as long as you're washing hands for 20 seconds. No specific "special products" are needed.

Sanitizing gel is also fine, but note that it must be rubbed into the skin until it's dry.

Masks do not provide any benefit to healthy individuals, and if someone is exhibiting symptoms of

coronavirus

, they need to be isolated at home.

Coughing or sneezing into a tissue, elbow or sleeve is recommended. Tissues should be immediately thrown away in trash receptacles.
These steps will support students and staff against common winter germs, including colds, seasonal flu and strep, in addition to COVID-19. They are smart practices for all individuals and organizations and we encourage families to follow the same practices at home.
What happens if the COVID-19 virus reaches the Ingham ISD Service Area?
Should the COVID-19 virus come to the Ingham ISD service area, we will follow the direction of the state or county Health Department. If their direction is that we close, we will close and we will also work with these experts on the appropriate time to reopen our buildings.
If a closure happens, we will work with the Michigan Department of Education to determine alternate ways to deliver instruction or extend the school year so that our students receive the education they deserve.
Background Information
What is the Coronavirus?
A novel coronavirus is a new coronavirus that has not been previously identified. The virus causing coronavirus disease 2019 (COVID-19), is not the same as the coronaviruses that commonly circulate among humans and cause mild illness, like the common cold.
A diagnosis with coronavirus 229E, NL63, OC43, or HKU1 is not the same as a COVID-19 diagnosis. Patients with COVID-19 will be evaluated and cared for differently than patients with common coronavirus diagnosis.
Why is the disease being called the coronavirus disease 2019 (COVID-19)?
On February 11, 2020 the World Health Organization announced an official name for the disease that is causing the 2019 novel coronavirus outbreak, first identified in Wuhan China. The new name of this disease is coronavirus disease 2019, abbreviated as COVID-19. In COVID-19, 'CO' stands for 'corona,' 'VI' for 'virus,' and 'D' for disease. Formerly, this disease was referred to as "2019 novel coronavirus" or "2019-nCoV."
There are many types of human coronaviruses including some that commonly cause mild upper-respiratory tract illnesses. COVID-19 is a new disease, caused be a novel (or new) coronavirus that has not previously been seen in humans. The name of this disease was selected following the World Health Organization (WHO) best practice external icon for naming of new human infectious diseases.
How does Coronavirus (COVID-19) spread?
Health experts are still learning the details about how this new coronavirus spreads. Other coronaviruses spread from an infected person to others through the air by coughing and sneezing. close personal contact, such as touching or shaking hands. touching an object or surface with the virus on it, then touching your mouth, nose, or eyes. in rare cases, contact with feces.
What are the symptoms of the Coronavirus (COVID-19)?
According to the CDC, patients with COVID-19 have reportedly had mild to severe respiratory illness. Symptoms can include:
Fever
Cough
Shortness of Breath
Symptoms may appear 2-14 days after exposure. If you have been in China within the past 2 weeks and develop symptoms, call your doctor.
What are the symptoms of the Influenza as they differ a little from COVID-19?
According to the CDC, common Influenza (flu) can cause mild to severe illness, and at times can lead to death. Flu is different from a cold. Flu usually comes on suddenly. People who have flu often feel some or all of these symptoms:
Fever* or feeling feverish/chills
Cough
Sore throat
Runny or stuffy nose
Muscle or body aches
Headaches
Fatigue (tiredness)
Some people may have vomiting and diarrhea, though this is more common in children than adults.
*It's important to note that not everyone with the flu will have a fever.
Centers for Disease Control and Prevention Documents
MAP
FREQUENTLY ASKED QUESTIONS
WHAT TO DO IF YOU'RE SICK
Michigan Department of Health and Human Services
The documents on this website were taken from the Michigan Department of Health and Human Services website on February 29, 2020. For the most recent version of these documents, please visit their site directly.

Coronavirus Disease COVID-19 Frequently Asked Questions

Generic Fact Sheet

Generic Fact Sheet - Spanish

Generic Fact Sheet - Arabic

Generic Fact Sheet - Simplified Chinese

Generic Fact Sheet - Traditional Chinese